A Very Short Holiday Story #3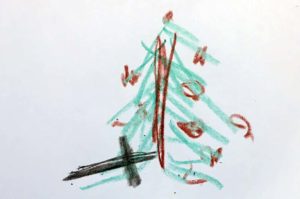 Darius' holiday Starbucks cup teetered on top of a month's worth of end-table clutter as he settled into the recliner. Was he the only person who still watched news on a broadcast station?
First up, the stock market was in a gloomy mood today. Darius felt the same. He hoped it wouldn't signal another loss in his life. The meteorologist predicted sunny weather Friday. Darius hoped it would hold until next week. All the while, he hoped the news would take his mind off of something else.
Hope. Modern hope means leaning on feelings, preferences and personal situations. It's feeble at best. "Hopefully, things will turn out like we want." Human hope breeds disappointment.
Darius glanced at his Christmas tree. The shiny tinsel – his wife Natasha's idea, and now a 20-year tradition – served only to haunt him: "Hope in what?"
His wife died instantly, they said, a victim of a drunk driver on Dec. 26. It was no longer Darius' and Natasha's Christmas tree, but his alone, decorated with memories that his numb heart could still not process.
He hoped the weather would hold for Natasha's funeral, that he could maintain a routine at work, and that life would go on. But he wasn't sure. He could only hope.
As his eyes climbed up the tree they reached the cross at the top, where Natasha always placed it. It seemed so high, so out of reach.
He pulled himself out of the chair, removed the cross from its perch, and set it down with the unopened presents. "That's better," he thought. He imagined himself standing on it, a hope of different kind: "an assurance of things hoped for, the conviction of things not seen" (Hebrews) – "a sure and steadfast anchor of the soul" (Romans) – a foundation for the days ahead.
The TV news had shifted to sports, but Darius lost interest. He'd tuned in to a different channel. Good News. That's what he needed. Hope of a better kind. Because it didn't feel like there was much of the other kind in his house today.
Which hope rules your life? What is it based on? Christ's incarnation, death and resurrection makes the Christian hope something besides optimism and wishful thinking. It makes the world a little more bearable because it points to the fulfillment of God's promise in the world to come. "The hopes and fears of all the years are met in thee tonight." Today, tomorrow, and forever.