A Very Short Holiday Story #2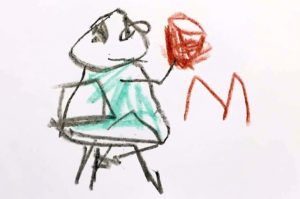 Marcus wasn't that old, but certainly old enough to rank a senior coffee at McDonald's and resent their stupid self-service order station. Thankfully, a cashier let him skip the digital screen and order in person. "That's 75 cents," she said without checking his ID.
He paid cash and moved to the counter marked "pick up here." Six minutes later somebody set his coffee on the counter. Six long minutes. Settling on the stool at a high-top table, Marcus read the heartfelt message on his seasonal cup: Your holiday in every sip. Maybe he needed more coffee, because he had no clue what that meant.
The place was clean. Too clean. Marcus thought that a hamburger joint should be marked with the heavy scent of onions or mustard. And Christmas decorations. Where were they? Surely the manager hadn't taken them down already. There should be some snowflakes or something.
He took a sip of the coffee. He missed the holiday.
Since his children moved away, the city had lost its luster. If not for the need to finish out his career here and collect full benefits from the company, he might have moved with them. But here he was on Christmas Eve, imagining the spot where his kids once played on the Hamburglar.
Did you catch the Christmas spirit this year? Did you have to chase it? I did. It's easy to think we can order up the feeling of the season like we do fast food. Visit the old familiar places, look up friends for an annual chat, or lose ourselves in shopping. But it's not that simple.
Marcus glanced at his analog watch. He still had time to make the Christmas Eve service if he hurried. But he didn't hurry. He took his time, arriving in the parking lot 25 minutes late. Was it worth going in? He decided not and just sat there with the motor running.
"What are they doing in there now?" he mused. Lord's Supper, or Communion, or Taking the Table – whatever they called it now. He absently touched the McDonald's cup to his lips. "Like this," he thought. "For this is My blood of the covenant, which is poured out for many for the forgiveness of sins." Blood. What an odd way to think about Christmas.
We speak of Jesus taking on human flesh. But that flesh was filled with human blood – the blood required to pay the debt for our sin. God became flesh to oversee his own death so that we might live forever.
A tap on the auto glass interrupted Marcus' thoughts. "You OK in there?"
He took a fresh look at the message on his coffee cup: Your holiday in every sip. Maybe he didn't need more coffee to understand it, after all. Maybe he'd just been sipping the wrong thing. He was more than OK. He was ready. Ready for Christmas.