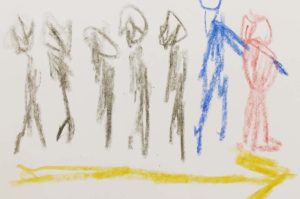 The hardest thing that someone can require of me is patience. Or forgiveness. Or anything else that makes me give up first place.
I like to be first, not only in proficiency but in importance.
I don't mean I want to stand on a pedestal and have people shout praises; that would just be embarrassing. It's subtler than that. It comes disguised as my overemphasis on wanting to be known quietly as the best dad, the best worker, or even the best Christian (emphasis on overemphasis).
"Overemphasis" is another word for idolizing something. Maybe you have some things like that in your life, too. Those things would be fine in their place, but first place is the wrong place.
First place is a hard place to give up. It requires humility, which is contrary to human nature. Thank God that He makes the impossible possible. He turns second place into the winning place.
Today. Do nothing from selfish ambition or conceit, but in humility count others more significant than yourselves. Let each of you look not only to his own interests, but also to the interests of others. Philippians 2:3-4
The Gospel. Have this mind among yourselves, which is yours in Christ Jesus, who, though he was in the form of God, did not count equality with God a thing to be grasped, but emptied himself, by taking the form of a servant, being born in the likeness of men. And being found in human form, he humbled himself by becoming obedient to the point of death, even death on a cross. Philippians 2:5-8