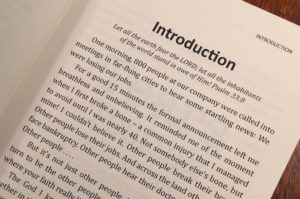 One morning, 800 people at our company were called into meetings in far-flung cities to hear some startling news: We were losing our jobs.
For a good 15 minutes the formal announcement left me breathless and unbelieving. It reminded me of the moment when I first broke a bone – a common injury that I managed to avoid until I was nearly 40. Not somebody else's bone, but mine! I couldn't believe it. Other people break their bones. Other people lose their jobs. And across the land other people face bankruptcy. Other people hear their doctors say "cancer." Other people . . . .
But it's not just other people, is it? Sometimes it's your turn to be the other people. And that's when you find out where your faith really lies.
The God I know is faithful in every moment of life – whether in times we call "good" or times we call "bad." In the stories that follow, you will quickly learn about the God who first loved us so that we might come to love Him.
But first a word about how I came to write these stories.Several years ago an individual at our company started an email group to distribute a daily Nugget – a quick expression of God's Word sown among anyone who wanted to join the list. The group grew, and I joined as a recipient. Then God, in His providence, opened the door to my becoming a contributor. The stories you see here are a few of those insights that God spoke into my heart to share as Nuggets through the years.
The Monday after our company left us breathless, I wrote a note to some of my coworkers comparing our layoffs to the winding down of a carousel. I called it Monday on the Merry Go Round, and I have included it in this book. The response surprised me. One man urged me to share my writing more broadly. A woman came by my cubicle, planted herself on a corner of my desk, and said, "I'm serious about this. You need to write a book. Seriously." I think most writers hear that well-meaning suggestion at one time or another, and my inclination is to shrug it off. But this time it seemed different. This time it seemed like the right time. So . . . this is it.
Most of these stories begin with life's littlest moments – something I have observed in my life or someone else's. Everybody's life consists of such moments, strung together from the time you wake up until you crawl back into bed at night. The question is, what do you see in them?
Everywhere I look I see God's big plan working itself out. It's called the Gospel. Our lives are a front row seat to the awesome ways and being of our Creator, Sustainer, and Redeemer in which we are both actor and audience. By grace, this is how I see the world. I pray that you, with practice and the Spirit through whom God makes His Son known, take courage as you too see Him in life's littlest moments yourself. Your life's littlest moments.
Look closely. God is always there, worthy of your wonder and awe, even in your hurt.
Let all the earth fear the LORD; let all the inhabitants
of the world stand in awe of Him! Psalm 33:8